Marant Cards Greeting cards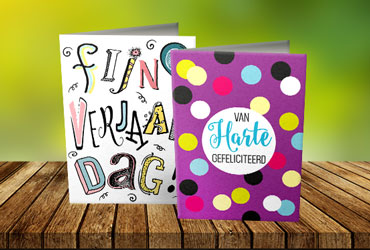 Bij iedere gelegenheid een passende kaart voor een oprecht en persoonlijk bericht. U treft het bij Marant Cards. In onze Cash & Carry treft u een zeer uitgebreide en in het oog springende collectie wenskaarten met het standaard formaat 11.5cm x 16.5cm.
The Marant Cards Greeting Cards collection covers every conceivable theme and occasion: Congratulation, Birthday, Marriage, Birth, Get well, Participation and special texts such as Thanks, Pension and Much Love and lots of Blank variants for all occasions. For special seasons, such as Easter, Communion, Success and Christmas, you will always find current collections with us.
The Marant Cards Greeting Cards are available from stock and the collection changes throughout the year and is always kept up-to-date.
If you miss a theme in our collection: feel free to let us know, then we can assess whether we can make something applicable to the desired theme.
We also offer a 64-compartment greeting card display for the extensive collection of Marant Cards greeting cards.
The greeting cards are full-face (fully visible) in the greeting card display, for a perfect presentation.
Vraag ernaar in onze Cash & Carry te Ridderkerk.
Wij hopen u snel te mogen verwelkomen in onze Cash & Carry te Ridderkerk voor onze Marant Cards Wenskaarten collectie.